Ad and blurb from Roy Brown who contacted the Brant Museum and Archives.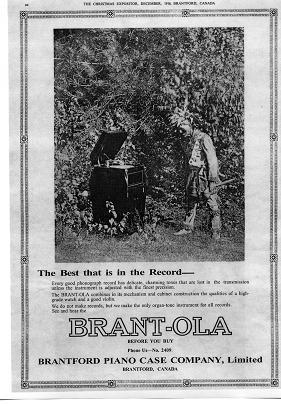 (contact Keith for larger image)
Text:
The Christmas Expositor, December, 1916, Brantford, Canada
The Best that is in the record--
Every good phonograph record has delicate, charming tones that are lost in the transmission unless the instrument is adjusted with the finest precision.
The BRANT-OLA combines in its mechanism and cabinet construction the qualities of a high grade watch and a good violin.
We do not make records, but we make the only organ-tone instrument for all records.
See and hear the BRANT-OLA
Before you buy
Phone Us--No. 2409.
Brantford Piano Case Company, Limited
Brantford, Canada
---
The above Brant-ola notes it was "Sold by Frank Stanley, Toronto".
Betty Minaker Pratt supplies, "The second Brantola mentions the store of Frank Stanley pianos of Toronto.
Wayne Kelly's book,
Downright Upright
, p. 120 says that Stanley took over the Cecilian Piano Co. in 1922, but then went out of business two years later when Mason & Risch bought out their stock. I have an address for Stanley Piano factory at 121-135 De Grassi St., and store at 14 Temperance St., Toronto on an illustrated pamphlet.
Another letterhead from Frank Stanley Oct. 1920, says they are agents for Brunswick Phonographs and Records at 241 Yonge St. "

Betty also supplies the information that, "[the] Tor[onto] Ref[erence Library] has Patent books, with an Index of Inventors, Patentees, and Assignees.
March, April, June, 1916, p. 1990 listed The Brantford Piano Case Co. Ltd, Brantford, Ontario, Phonograph cabinet, June 10, 1916. Nov., Dec. 1916 p. 4111, No. 22233 listed Brantford Piano Case Co. Ltd, the Word, Brant-Ola, Dec. 28, 1916. "

And Betty supplies the following page from the Toronto Reference Library of page 78 from the

Canadian Music Trades Journal

, August 1917:
Style 'B' I found for sale around Niagara-on-the-Lake, October 2009. The case needed gluing apparently.
Same Brantola 'B' a year later (August 2010), fixed:
---
Model 'C' at Aberfoyle Sep. 2012 (images by KW):
---
From:
http://www.northhuron.on.ca/index.php?option=com_content&view=article&id=1418:morris-one-room-schools&catid=70:walton&Itemid=89
Tuesday, 10 May 2011 11:09
THE SCHOOLS OF MORRIS TOWNSHIP
Reprinted from The Brussels Post- 1981
S.S No. 1 – Wallace's School
Wallace's School or the S.S. No. 1 in Morris Township has been used for everything from a schoolhouse to a pig barn.
With information obtained from Mrs. Harold Laffin, Mrs. Bill Souch and Mr. and Mrs. Aubrey McNichol, some of the school's history is recorded here.
Built in 1892, replacing an original log structure from 1876, it was purchased by Keith Richmond and then it was sold to Bill Souch. When Mr. Souch's barn burned down he needed a place to put his pigs so he put them downstairs in the schoolhouse and the grain upstairs.
A church known as Ebenezer Methodist Church once stood across the road from the school.
When Mr. McNichol went to the school somewhere between the years 1936-1938 the attendance was at one point down to six boys and one girl.
[snip]
In 1920, it was the first school in the area to have bought a Brantola phonograph to teach the children the value of music. In the same year, the woodshed was moved to the rear of the school and put up on concrete.
---
Ottawa Citizen
, Dec. 21, 1918, pg. 18


Ottawa Citizen
, July 9, 1920, pg. 7


No provenance to this image: