KW article on Antique Phonograph News, May-June, 2015: http://www.capsnews.org/apn2015-3.htm

From "Portable Pastimes" by Betty Minaker Pratt and Bill Pratt in Antique Phonograph News Nov-Dec 2007 (http://capsnews.org/apn2007-6.htm#stewart )

In 1893, John K. Stewart and Thomas Clark started manufacturing drive-shafts, sheep shears, horse clippers, and bicycle handle-bars in Chicago. Then they expanded to speedometers for Model T Fords. They bought the Warner company in 1912, and by 1916 Stewart, who loved music, had established a phonograph factory in Chicago. A trademark was filed for the Stewart Phonograph Corp at 2827 N. Lincoln St., Chicago, Il., November, 1916 (R. J. Wakeman).

Stewarts were manufactured in Toronto as well as in Chicago. A corporate file at the Ontario Provincial Companies Branch indicates there was a separate Canadian company established in Ontario. The pamphlet included with this Stewart shows a Toronto address, probably for the showrooms at 1110 Temple Building, erected in 1896 at Richmond and Bay Street, one of the first large skyscrapers built for the Independent Order of Foresters. There are ads for Stewart in Eatonís catalogues of 1919, 1920, and 1921. Another ad appeared in the Toronto Daily Star, May 10, 1920 showing an asking price of $15.00.

The 1920 Might's City Directory shows Stewart Phonographs as distributors, on Pape Ave. Theodore Vatcher was manager at Pape Ave. in 1922, and Earl M. Jones, manager in 1923. "During these years the firm used the premises of W. H. Banfield & Sons Ltd., manufacturers of lighting fixtures and phonograph motors, 370-386 Pape Ave." (Letter from Toronto City Clerk answering George Wonch, Aug. 30, 1966; courtesy Horst Weggler).
The Globe, Sept. 1, 1920, p. 11 stated that Banfield purchased an entire plant from the U.S. and moved it to Toronto. In 1916, during WWI, Banfield made fuses and munitions, and by 1929 they consolidated three electrical equipment companies making switches, outlet boxes, and wiring (Toronto Star, March 20, 1929, p. 13).
The company later became Stewart-Warner and continued to make televisions, radios, and speakers. Stewart-Warner speedometers were also sold in Toronto (265 Church St.) and across Canada [Pamphlet in the authorsí collection].
Labelled "Stewart Phonograph Corp. Ltd Toronto Canada" this is a mahogany-lithographed tin-plate model with a carrying case. On top were nickel trimmings. It has a single-spring motor, a 10-inch turntable and can play two records with one winding. The reproducer pivots forward to play vertical-cut discs. Mike Bryan believes the mahogany case was typical of those made in Toronto, whereas the green or cream probably came from Chicago. Domenic Dibernardo has a gold-coloured case.
The Windsor Main Spring catalogue lists a spring suitable for Stewart at 1 x 0.025 inches x 9 feet, with pear-shaped holes at 50 cents.

---
Betty found this Banfield letter head in 2014 (courtesy Bill and Betty Pratt collection):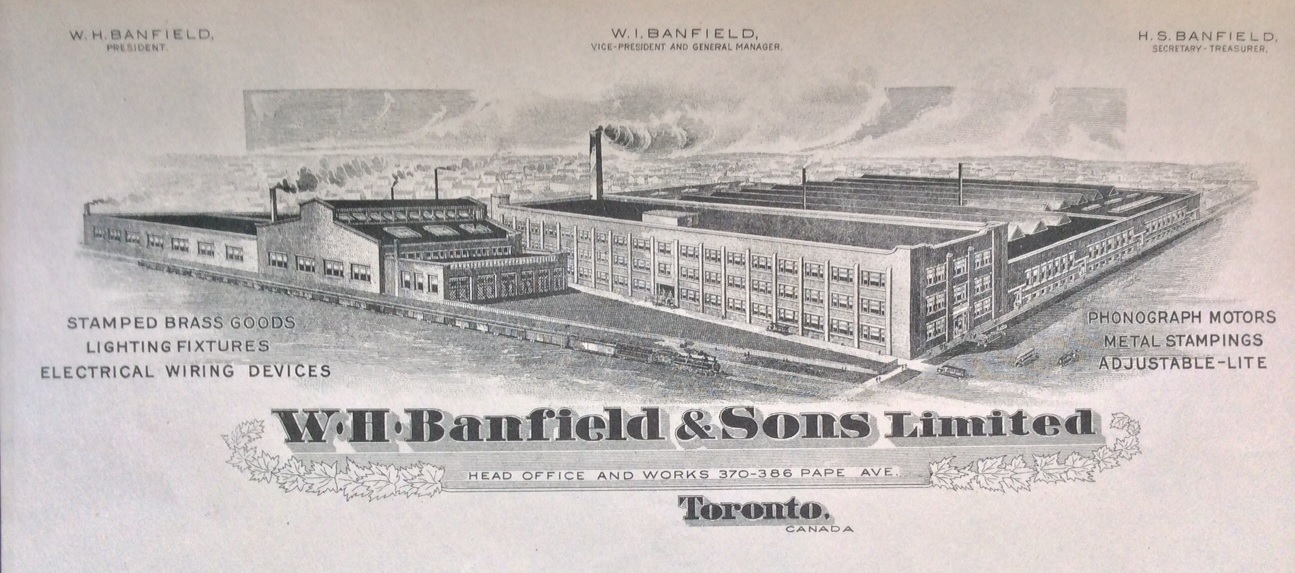 Cheryl Wright found the following photo of 370 Pape ("Pope"[sic]) circa 1917 at
http://www.british-immigrants-in-montreal.com/w-h-banfield.html
---
Text from
http://newspaperarchive.com/ca/manitoba/winnipeg/winnipeg-free-press/1920/03-22/page-6
Winnipeg Free Press (Newspaper) - March 22, 1920, Winnipeg, Manitoba
An Incomparable Entertainer Brings the fun and fascination of the newest dance magic into Canadian homes this year 
the Stewart Phonograph will bring fun and happiness the bubbling cheer of the liveliest music When the young folks 
call eagerly for the the Stewart is always the bewitching the newest or the oldtime waltz A veritable fountain of 
an amazing volume of true Yet this musical marvel costs but You can carry it from room to Have it on the verandah 
in Take it to your summer Carry it in the car or canoe It is the universal entertainer You must hear to realize 
what revolution it has brought Plays All Makes of Records Displayed in the windows and on the counters of stores 
Hear the Stewart play your favorite any any any size Universal Scientific speed the last A smoothrunning to play 
two 10inch records with one Beautiful and durable finish a Mahogany enamel with nickel A veritable musical marvel 
this welcome entertainer to rich and poor alike Hear SE ST 6T C De M 230 The Stewart phonograph is made in Can 
It is sold all the world Its phenomenal success proves its absolute At any should you require a replacement your 
Stewart phonograph need not be idle for many We can meet service demands of every PHONOGRAPH For Sale Book and Hardware
 Stores 8cnd direct to us delivery STEWART PHONOGRAPH LIMITED TORONTO   
---
"Presto", December 16, 1922 pg. 21: