In 1925 Darwin Martin had Wright do a summer house, "Graycliff". My daughter liked it better than the 1905 estate. It is described as a "tune up" to Wright's most famous house, "Falling Water". Main house to the left and the garage/chauffeur's quarters to the right. The servants had the right end of the main house where the windows aren't very big. Large windows on both sides of the house are to "bringing the lake" all the way through to the property. Unfortunately, Graycliff has been mistreated since the 30s and the interior still needs a LOT of work. Again, "no pictures when there is a roof..".
A fountain running our from under the front door is supposed to be again, "bringing the lake through the house to the property"--in this case, a pond. Falling Water as the name suggests was built on a water fall.
The octagon was echoed in the fireplace and in a seating area out back: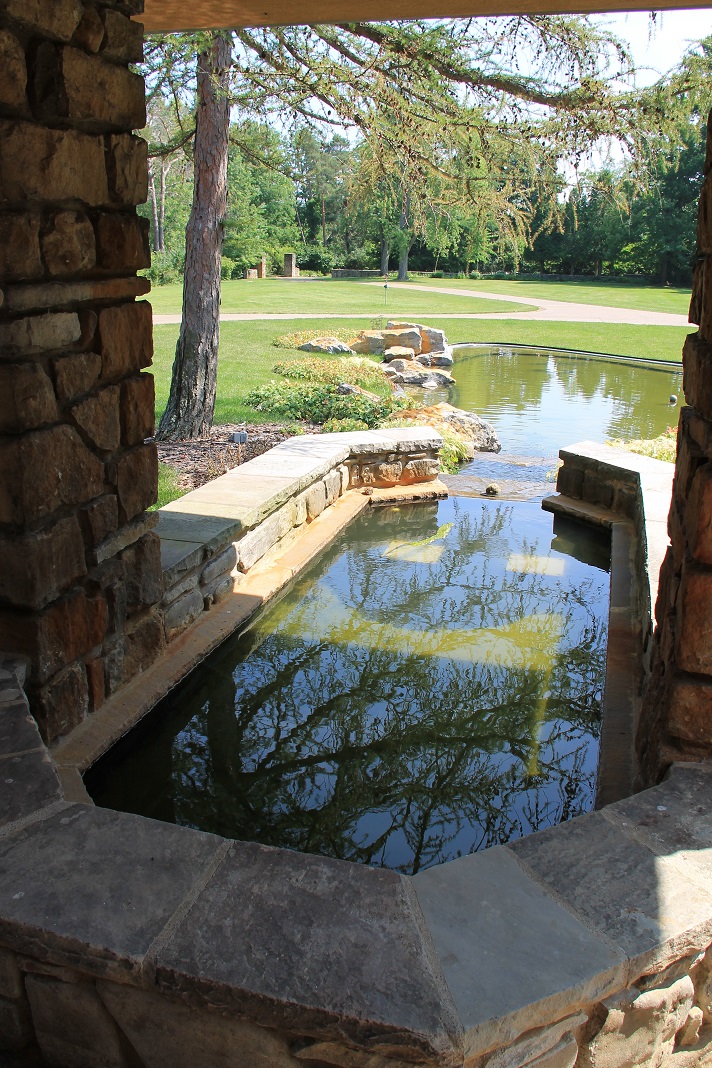 The floor of the porch shows the broken stone from the bottom of the gray cliff. This diamond pattern is the main theme of the house:
Which is in the windows (whoops, did I take that picture?) AND in the new earring souvenirs:
The Mrs. wanted a window in her bathroom even if it is up against the chimney, dammit! A rare Wright capitulation to the client.
The octagonal sitting area has fallen off the cliff.
The gallery (picture slight blurred from being taken quickly without being caught) shows the most light of any Wright house I've been in. Maybe why the daughter liked it.
Wright also does these window-corners at Falling Water which, with the windows open look like there is nothing there: