Relive the Past!
Have you ever seen or heard a real Victrola? Do you know what shape Edison's original recordings were? Have you ever heard a version of O Canada recorded when the country was only 47 years old? (It wasn't the national anthem at the time, either--so, what was?) Have you heard Elvis played on one of the very first 45 rpm players?
If not, or if your group or class hasn't, you're in for a treat. I am a member of the Canadian Antique Phonograph Society, past editor of Antique Phonograph News and I have created a multi-media presentation covering the history of recorded sound. My collection of phonographs, gramophones and talking machines was started in 1983 and since 1997 I have been demonstrating it to various audiences.

Using a laptop computer, for each year ending in a seven from 1877 to 2007 I show for that year: photographs of automobiles and fashion and some interesting facts ("In 1957, the first satellite was launched."). From my collection, I also play an original recording from that year on a machine from that era. For example, a cylinder player from 1915 and an 8 track player from the late 70s. Imagine hearing the hits of yesterday exactly how they were heard when they were new!

The machines used are originals from 1898, 1907, 1915, 1926, 1936, 1947, 1955, 1967, 1972, 1985, 2000 and 2007. In addition to this, I have a Gillette tin-foil machine from 19th century plans.

---
The following images are from a presentation I made (about my presentation) to the Canadian Antique Phonograph Society.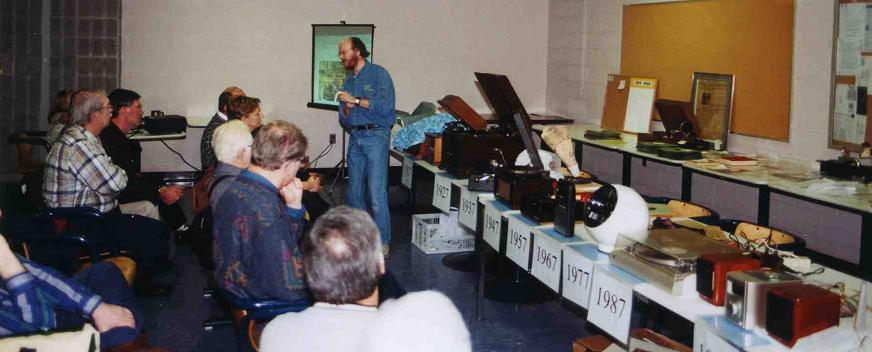 ---
The following images are from a Public School presentation.
---
The following images are from my presentation to a first year class at the University of Toronto--which has been repeated several times.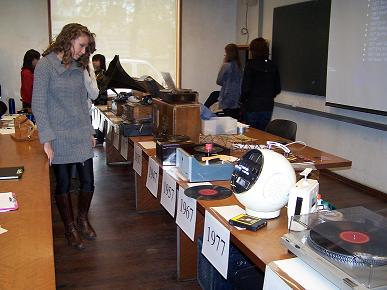 ---
The following image is from a presentation I shared with CAPS member Mike Bryan to the Durham Antique and Classic Car Club.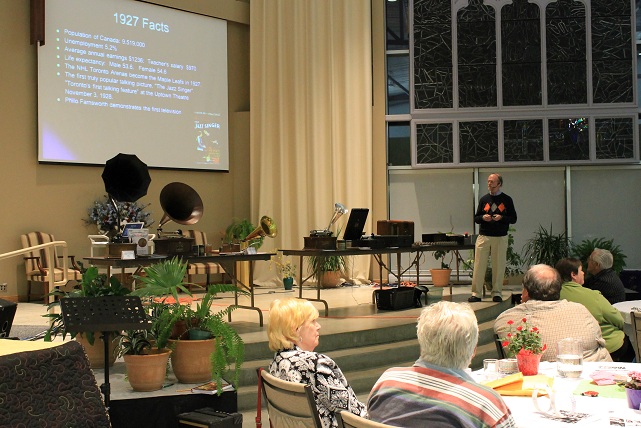 ---
From the
Aylmer Express
about my presentation to the Bayham Historical Society
---
Spadina House Gatsby Garden Party
---
Younger classes have been delighted by seeing an LP and hearing songs played on strange new/old machines. Secondary school classes have learned about important 20th century inventions and had fun seeing the fashions and hearing the music of the past. University students have been able to have the history of technology jump off the textbook page. Adult groups have just...enjoyed!
Keith with a Victor I outside-horn talking machine from 1907, an RCA 45 player from 1949 and a Weltron 2001 "Space Helmet" 8 Track tape player from the 1970s.




Tin foil machine made from 1878 plans.
---
Non-school presentations have been made to:
-Durham Classic Car Club
-Durham Personal Computers Users' Club
-Bayham Historical Society
-Uxbridge Historical Centre
-Brampton Historical Society
-North York Historical Society
-Spadina House Speakeasy
-North Toronto Historical Society
-Spadina House Gatsby Party (regular)

Requirements:

-Set up takes approximately an hour. Ideally, the demo would be set up in one room (libraries work well) if it is a school, so a number of classes can be rotated through.
-About 3 typical 'institutional' tables.
-A projector and screen to show computer output.

Cost:

For demos, donations are appreciated to cover travel and help with the wear-and-tear on the machines.
For entertainment, please contact as below.
---

Keith Wright

"Having fun since 1997!"

email:
---
Further info:
My articles in Antique Phonograph News:
The Development of the 45 rpm record and its players
Part 1 (CAPS members only)
Part 2 (CAPS members only)
The Development of the 8 track.
Part 1 (CAPS members only)
Part 2
Part 3
Part 4 (scheduled for 2017)

Quebec 'phonograph' manufacturer (and organ maker) Casavant Frères

Review of The Perfect Portable Gramophone

Early history of Phonola/Electrohome

W.H. Banfield, Toronto gramophone manufacturer

A History of Thorens

Curtiss Aeronola, Toronto gramophone manufacturer

The Retrophone That Ate the RCA Brand (CAPS members only)


-The Canadian Antique Phonograph Project I am leading resreach into Canadian machines.
-My Thorens "Collection" I am documenting the history of the Swiss company.
-My Amazing Panasonic Plunger Collection. It even made it to 8 Track Heaven!
---