From "The Golden Age of Cigarette Lighters"--Ira Pilossof & Stuart Schneider, 2004 Schiffer Publishing Ltd.
Thorens. 1920s to 1960s
"Swiss made of the highest quality. They are almost in the class of Dunhills. Thorens was a music box maker that began in 1883. Their most sought after lighter models are of the 1920s to 1930s era. The company moved into making record turntables, speakers, and other music items. Their "Standard Original" model was introduced in 1919 and was successful enough to convince the company to continue to manufacture lighters.
"The concept of the Dunhill shop was to offer the finest products. [Dunhil began making] Lighters [in] 1914"

This site has quite a bit of information on lighters and includes a number from Thorens: http://www.vintagelighterbook.com/html/all_lighters_.html

The Pittsburgh Press Nov. 20, 1949, pg11:

The Vancouver Sun Nov. 7, 1949: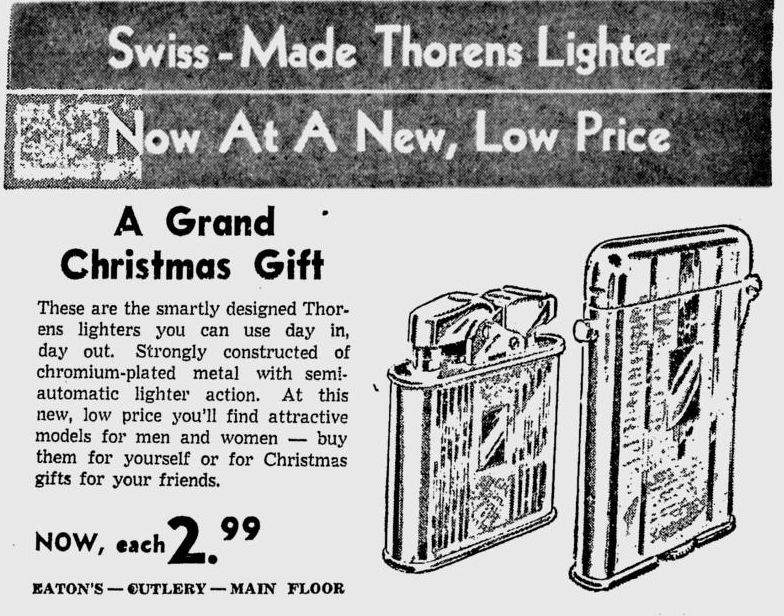 The Youngstown Vindicatgor Jan. 12, 1947:

From a 2008 Thorens publication:

"What is far less known, however, is that between 1913 and 1964 Thorens also manufactured more than 5 million pocket lighters to help establish the Thorens identity worldwide."

---
In 2007 I spotted this one in an 'antique show'.

Obviously a prized enough possession to be engraved.





And there on the bottom is...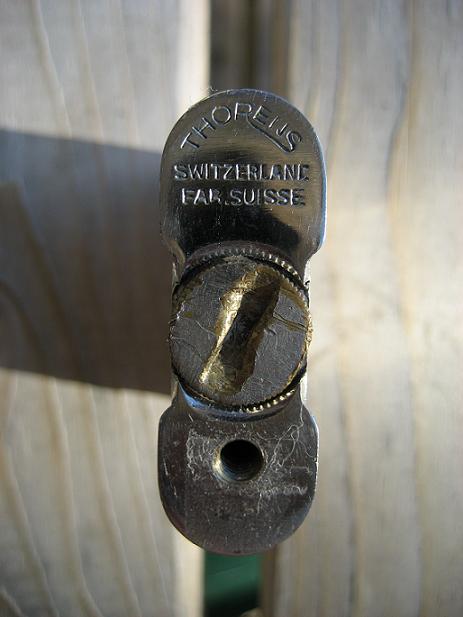 Here is a picture from "The Big Book of Cigarette Lighters" -- James Flanagan, 2005, Collector Books
1946 magazine advert I picked up in 2008.
Another advert I don't own, from LIFE magazine, February 10, 1947 is here.
---

In the fall of 2009 I spotted a second lighter from the same vendor. It seems very similar to the one in the 1946 advert above. And yes, now that I have two, I now have a collection.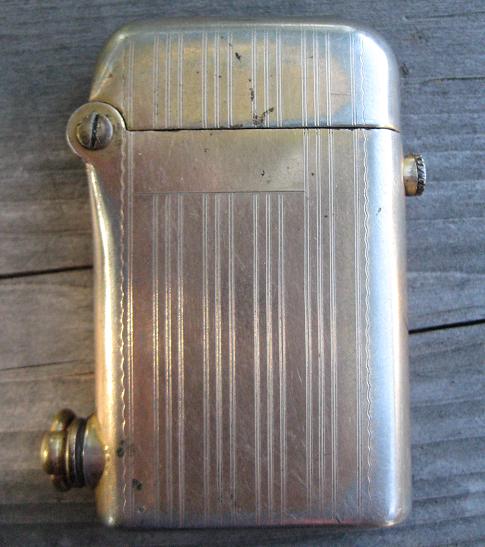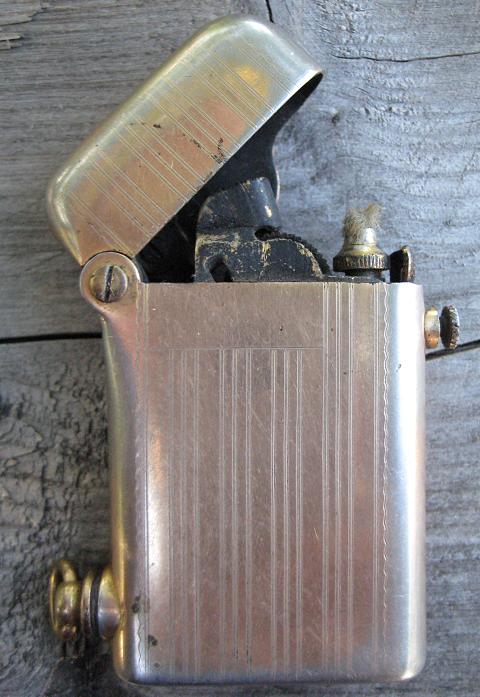 Bottom:




Hinge: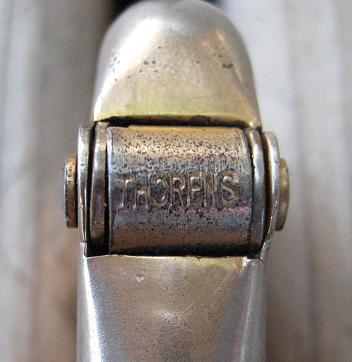 Here is a PDF of a 1919 US lighter patent by Thorens showing what looks like the mechanism for this lighter (click on the picture):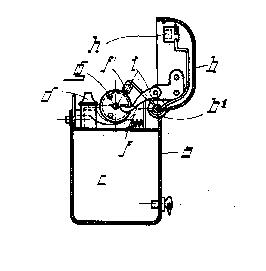 ---


In 2010 I picked up this Thorens light display case and now have my lighters and tins in it.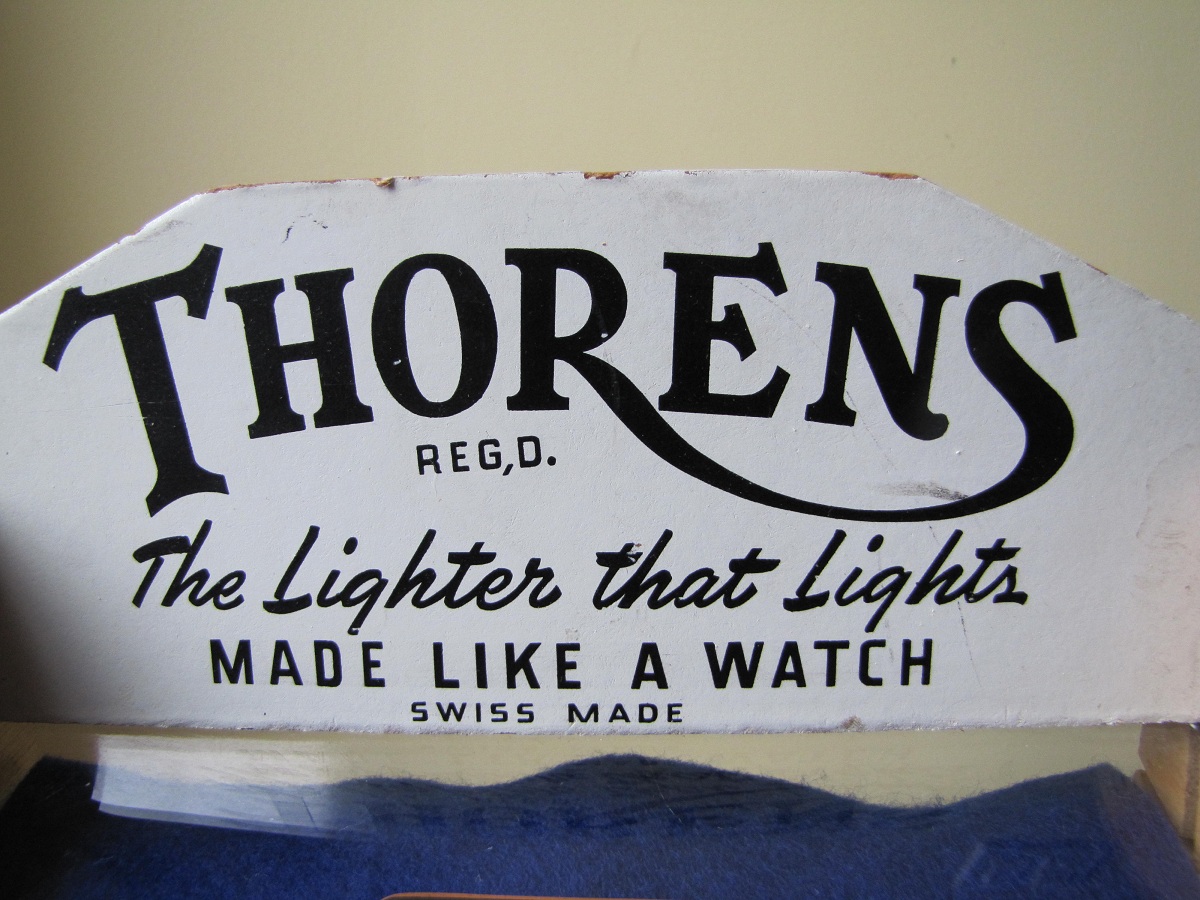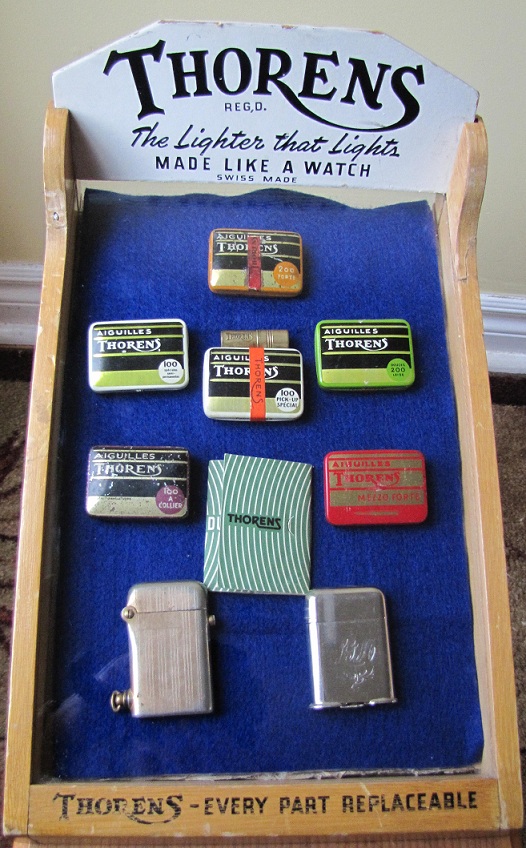 The brass cylinder has possibly been identified as a container for lighter flints and not phonograph needles.






I picked up a smaller brass one and a wooden one:





Both new containers had wicks:




With a lighter for scale:


---


In 2011 I picked up a Thorens-labeled lighter-filler. Presumabley you pump the plunger on the left and fill the lighter from the spout on the right.




Mark on bottom:




To show its scale versus the two lighters and the tins:


---

Preparing for a presentation on Thorens in 2012 I stumbled upon a curious website purporting to sell Thorens lighters in unusual metals at prices with no currency. Let's say I was confused and suspicious. Then on June 1st, 2014 I received this surprising email:


<<
Dear Keith,

I hope that my message finds you well and I just wanted to share with you that we have re-launched a small production of Thorens lighters in Switzerland.

To celebrate the more than one century existence of lighters' production, my brothers and I are preparing a publication listing all lighter models including pictures, patent features, descriptions and historical anecdotes.

As an esteemed collector, you will be of course most welcome to join us if you would like to share insights on an item of special interest that you would like to be included in the book (with reference to your collection).

Please tell me if I could provide you with any further information and I am looking forward to hearing from you soon.

Yann

Yann Thorens

Authorized officer lighters

Hermann Thorens S. A.

Grand-Rue 80

1180 Rolle

Switzerland

www.hermannthorens.com


>>

I did further digging and found:

<<


8th of June 2011

Guillaume Thorens establishes Hermann Thorens SA with Marc Thorens and Yann Thorens

>>
The company aims to manufacture and trade of mechanical and metal objects such as razors, lighters, watches, cutlery manufactured in Switzerland, as well as components and accessories, such qu'écrins, cases, boxes, precious metals, etc. .
>>

So some one is back in business with Thorens-branded lighters and now watches. The link they gave is broken, but there are some things here: https://www.tradeindia.com/Seller-10917153-Hermann-Thorens-SA/

---

A picture of a cool lighter with an engraved gramophone (now on my 'want' list) is here.




Back